Social Campaigns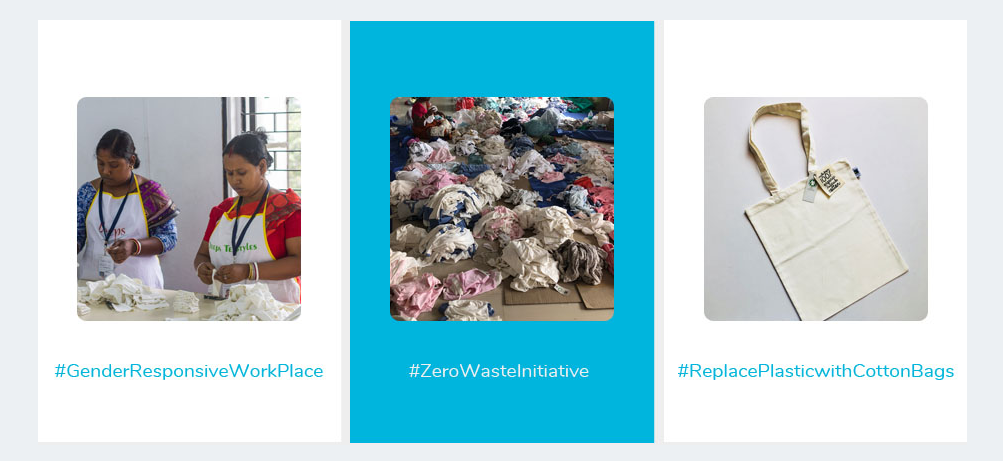 GENDER RESPONSIVE WORKPLACE :
We at Deeps collaborated with Swadhina, a Non Governmental Organization working for the development of Women and Children in the remotest corner of rural India for the past 25 years, to create a wholesome environment for the women in our organization to work in. Our organization supports marginalized women living under tough economical conditions. By providing them with steady pay at our factories, we help them to become empowered and self-reliant. We provide supportive healthcare for women. We also provide skill training for Capacity Building of women giving them a scope for a better life and better tomorrow.

ZERO WASTE INITIATIVE :
We are initiating a zero textile wastage policy at our factories to reduce the
environmental impact of textile manufacturing. As a textile manufacturer, we are aware that producing textiles is an environmentally damaging process. Textile manufacturing consumes vast amount of natural as well as human resources. Unfortunately, millions of tones of textiles are discarded every year. Not only does the textile waste pollute our environment by clogging landfills around the world, but the precious resources that went into making these textiles are wasted. Our mission is to trace and sustainbly reduce our textile waste stream.

WE REDUCE: We are training our pattern-makers to implement zero-waste cutting process. The pattern pieces of a zero-waste design fit together such that no fabric is wasted during the cutting phase. This includes clever fabric manipulations and cutting layouts to reduce wastage

WE REUSE: Around 20% of the factory spill could be remanufactured - used in the next purchase orders for the same buyers without a negative impact on cost or quality of production. Even more, it can reduce the use of virgin fabrics and save enormous amount of water and energy in factories.

WE RECYCLE: Instead of selling leftover scraps forward to local traders - all in one bulk, mixing up colours, fibres and piece sizes of the spill, the scrap waste is sorted and the smallest scraps & yarn waste are given for recycling. This way the fabric gets a new life and comes back to the supply chain without getting wasted.

We are collaborating with a number of Zero Waste brands in this regard who may want to buy our textile scrap and make beautiful products on their own. The details of this are available on our instagram page.

REPLACE PLASTIC WITH COTTON BAGS :

It is expected that this year the world will consume 5 trillion plastic bags – that is about 1 million bags a minute! To put this fact in perspective, if all the plastic bags consumed are stacked up it would cover an area twice the size of France. Plastic bags take a huge toll on our planet. It is non-biodegradable chokes rivers, oceans, clogs drains, causes floods and pollutes land, soil, water and air. So, we give you environmental friendly products and packaging options which you can opt in place of plastic bags. So, we at Deeps are taking the initiative of replacing plastic bags with high quality organic cotton bags in day to day use. Developed from Canvas and Jute, these bags are stronger, more durable and are bio-degradable. These inexpensive bags can degrade biologically in two years.